Stud Dogs
ANDORA PRO MARII ("Dora")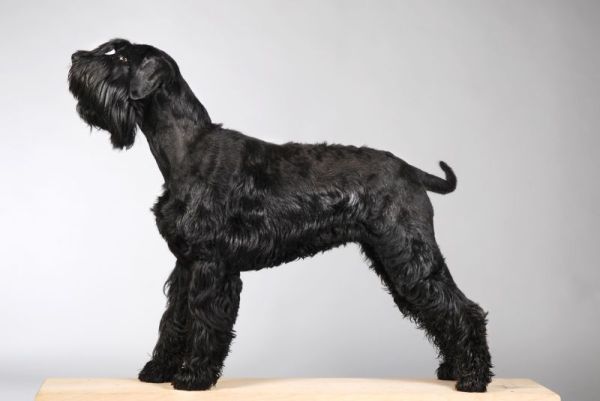 Sire
Dam
Frajer Frenkie Goldest Danubi;us
Derika Apovery
Club Champion of Beauty
Czech and Club Champion of Beauty
World Vice Champion ISPU 2011, Czech Champion 2012 and Czech Vice Champion 2010 and 2013
IPO1, IPO2, IPO3, BH, SPr1, SPr2, SPr3, OB‑Z
ZZO, ZOP, ZPU1-2, ZM, ZVV1, ZPS 1, ZZZ, RH‑E/F , BH, FPr1‑3, FH1‑2, StPr‑1
Download
Tests
| Test | Date | Place | Judge | Result |
| --- | --- | --- | --- | --- |
| ZZO | 13.10.2013 | ZKO Štěpánov | J.Lasík | 58 |
| BH | 20.10.2013 | ZKO Štěpánov | J.Vychodil | 58 |
| FPr1 | 10.5.2014 | ZKO Štěpánov | J.Vychodil | 94 |
| ZOP | 8.6.2014 | ZKO Štěpánov | L.Novák | 100 |
| ZPU1 | 13.7.2014 | KK Kroměříž | L.Novák | 145 |
| FPr2 | 27.9.2014 | Stopařský závod Holešov | J.Matula | 100 |
| ZPU2 | 25.10.2014 | KK Zlín | L.Novák | 283 |
| FPr3 | 16.11.2014 | ZKO Štěpánov | J.Vychodil | 98 |
| UPr1 | 11.4.2015 | ZKO Štěpánov | I.Skalická | 90 |
| FH1 | 19.4.2015 | II.Wiosenne zawody Kalsk (PL) | J.Lewkowicz | 95 |
| ZPS1 | 3.5.2015 | ZKO Vikýřovice | I.Skalická | 181 |
| IPO1 | 17.10.2015 | KK Zlín - Lhotka | M.Vávra | 271 |
| FH2 | 17.11.2015 | ZKO Štěpánov | MVDr.Glisníková | 90 |
| IPO-FH | 19.-20.11.2016 | Grand Prix Opola (PL) | B.Ryl / D.Kmiecik | 187 (95/92) |
| UPr2 | 30.8.2018 | ZKO Jeseník | I.Skalická | 87 |
| UPr3 | 6.10.2018 | ZKO Uničov | MVDr. Glisníková | 84 |
| FH2 | 18.11.2018 | ZKO Štěpánov | MVDr. Tichý | 88 |
Show results
| Show | Date | Class | Judge | Result |
| --- | --- | --- | --- | --- |
| OKV Šlapanice | 18.5.2013 | Junior | dr.Pavelek | V1, ČKŠ-J |
| OKV Horka n.M. | 25.5.2013 | Junior | Ing. Kotalová | V1, VT, ČKŠ-J |
| OKV Horka n.M. | 22.6.2013 | Junior | Ing. Kotalová | V1, ČKŠ-J, CAJC, ISPU cert. |
| Hanácká národní výstava Brno | 5.1.2014 | Intermediate | M.Skok | V1, CAC, NV |
| DUO CACIB Brno | 22.2.2014 | Intermediate | dr.Pavelek | V2 |
| DUO CACIB Brno | 23.2.2014 | Intermediate | L.Fairaislová | V2, R.CAC, R.CACIB |
| OKV Horka n.M. | 24.5.2014 | Winner | J.Jablonska | V1, ČKŠ |
| OKV Dvůr Králové n.L. | 2.5.2015 | Working | D.Kotalová | V1, ČKŠ |
| CKV Horka n.M. | 20.6.2015 | Working | J.Jablońska | V1, ČKŠ, CAC |
| OKV Úvalno | 19.9.2015 | Working | D.Kotalová | V1, ČKŠ, BIS VK |
Trials
Trial
Date
Category
Judge
Result
Memoriál J. Václavského Štěpánov
28.10.2013
ZZO
J.Štos
I. (59)
Stopařský závod Holešov
27.9.2014
FPr2
J.Matula
I. (100)
II.Wiosenne zawody Kalsk (PL)
19.4.2015
FH1
J.Lewkowicz
I. (95)
Mistrovství republiky KCHK Letohrad
27.-30.8.2015
FPr3
B.Ťujík
III. (95)
18.ročník Lukovského poháru Luková
12.9.2015
FH2
Ševčík
II. (94)
Memoriál J.Václavského Štěpánov
28.10.2015
UPr1
D.Majtas
I. (91)
19. ročník Lukovského poháru Luková
10.9.2016
FH2
L.Jánský
II. (94)
Memoriál J. Václavského Štěpánov
28.9.2016
UPr1
A.Jamnikar (SR)
I. (86)
Stopařský závod Holešov
22.10.2016
FPr3
M.Kašpar
I. (94)
Grand Prix Opola (PL)
19.-20.11.2016
IPO-FH
B.Ryl / D.Kmiecik
V. (187)
21. ročník Stopařského přeboru Nový Malín
21.-23.4.2017
kat. B
B.Kouřil/V.Vitásek
II. (94/95)
20. ročník Lukovského poháru Luková
9.9.2017
FH2
L.Jánský
IV. (92)
SC for the CZ Championship IPO-FH Ruda nad Moravou
7. – 8.10.2017
IPO-FH
J.Petráček/J.Lasík
V. (89/52)
1. WM ISPU IPO-FH Horní Bříza (CZ)
26. – 29.10.2017
IPO-FH
D.Majtas/M.Ryneš
IV. – jednotlivci
I. – družstva (85/89)
VS stopařů na MČR IPO-FH Ruda n.M.
29. – 30.9.2018
IPO-FH
P.Veselka/F.Zimek
V. (84/8)
Dorinka is the first girl and the first giant schnauzer in our family. I dreamed her up twenty years ago – at the time, I was attending training lessons with my first dog and admired our trainer´s giant schnauzer bitch (by the way, the dog name was Cindy Strážce klidu).
Dorinka meets all our expectations. She is our lovely girl, black princess, devil and rascal. She is really addicted to her family as each good schnauzer is. Her social behaviour is brilliant, she loves people and especially small children (and loves kissing their small noses). She is even-tempered, self-confident and communicative. Currently, she is an excellent and uncompromising guard-dog who guards our things with her life and is quick to respond if someone or something is threatening. Her only unpleasant behaviour is ocassional jealousy connected with her strong dependency on the family.
She is a typical schnauzer who must be constantly employed. She should not be allowed to get bored, because in this case she immediately finds some interesting activity (usually unacceptable for us). Thus we go jogging, swimming, tracking, obedience and defense training, training of tricks or dog-dancing. Dorinka (as well as all our dogs) is a "heart dog" – she is ready to do everything we wish due to her love.
And we love her too.
ATTACK OF LOVE BAILEY RAY ("Nugeta")
Standard poodle fawn
Date of birth: 9. 5. 2015
Bonitation code: 000A201000000
HD: 2/2, DOV clear, PRA clear, patella 0/0, ED: 0/0, spondylosa clear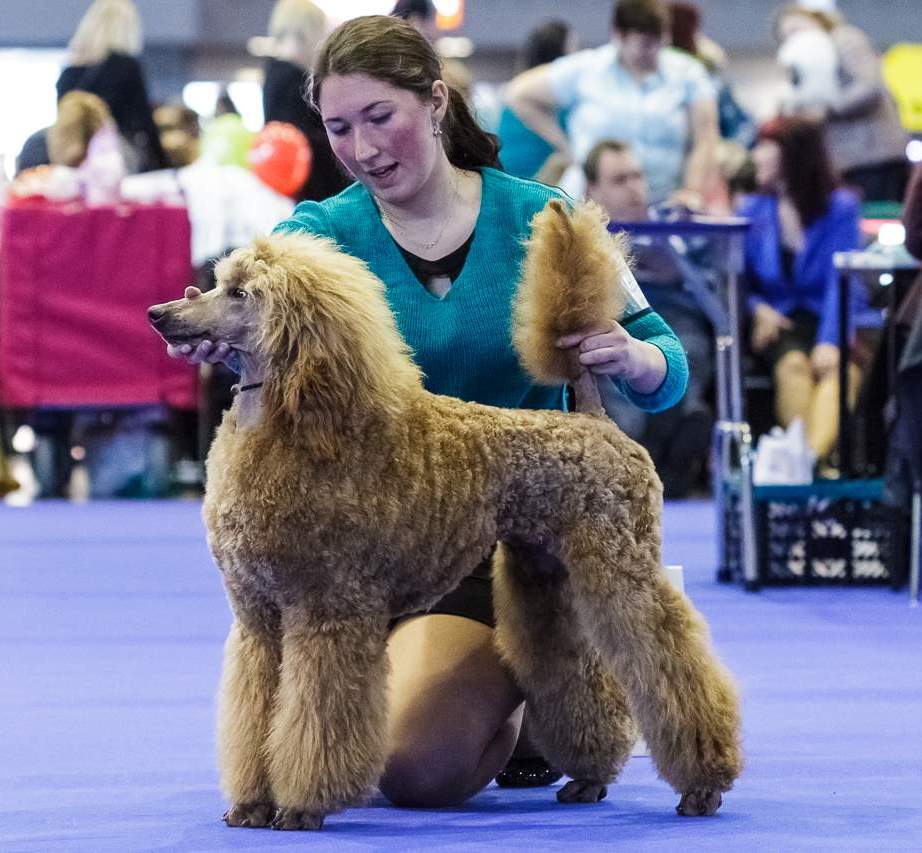 Sire
Dam
Bruno Omne Trinum Perfectum
Fantastic Future Minarett
PL Juniorchampion, PL Champion
BOB, CWC, BOS, CACIB, Junior Club Winner 2011
CZ Champion, CZ Grandchampion
PL Junior Winner, Club Winner, National Winner, CACIB, BOB
Canistherapeutic test
Shows
CZ Juniorchampion
Club Juniorchampion
| Show | Year | State | Result | Title |
| --- | --- | --- | --- | --- |
| Poodle Club Show | 2015 | ČR | VN1 | |
| DUO CACIB Brno | 2016 | ČR | VN1 | |
| Poodle Club Show Ostrava | 2016 | ČR | V1 | ČMKŠ, Nejlepší mladá fena v barvě fawn |
| NVP Ostrava | 2016 | ČR | V1 | CAJC |
| Klubová výstava Pudl klub Brno | 2016 | ČR | V1 | CAJC, ČMKŠ, Nejlepší mladá fena v barvě fawn |
| MVP Intercanis Brno | 2016 | ČR | V1 | |
| KChP Club Show Ostrava | 2016 | ČR | V1 | ČMKŠ |
| NVP Brno | 2016 | ČR | V1 | CAJC |
Nugeta has come to our family as Dora's friend and companion (but not only Dora´s) because after puppies leaving home, our house was sad and inadequately filled up with dogs. And Nugeta has lived up her part perfectly – she is funny, uncomplicated, crazy and loving, restless and agile. And beloved and devoted – she is our sweetie if she does not commit sabotage acts as gloves stealling or tasting some mucks outside...