About us
Welcome to the Arx Fortunae kennel website.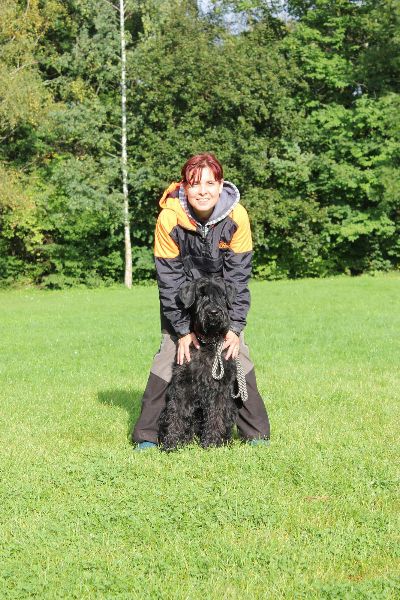 My name is Hanka Konrádová. Myself and my family have been living in a small village near Uničov for almost ten years (because of our dogs, of course). Apart from my family and our dog, our house is also currently occupied by two cats and a hamster (and also by a large number of spiders and other creepy-crawly for sure!).
Dogs have been members of our family since time immemorial. My first dog was bought by my husband when he realised that that was the way to my heart. So he fulfilled my childhood dream, but realised too late that he had braided a whip for himself, because there was no force that could push the dog out of the house.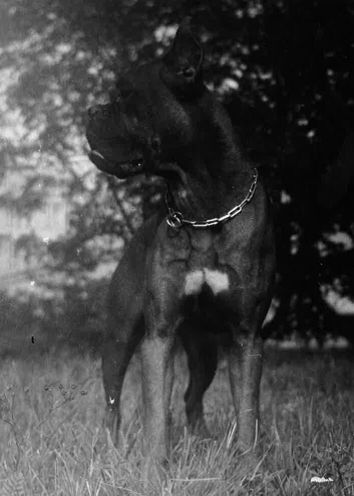 Our first dog was absolutely amazing, unique and irreplaceable golden boxer who came to our home as an unwanted one-year old youngster from an owner whose ambitions the dog was not able to meet… I was absolutely sure that the dog would lay down his life for the people he loved without any hesitation. An even-tempered laid-back dog, and avid retriever, he could be controlled by a single command. He was a dog who more than met our ambitions.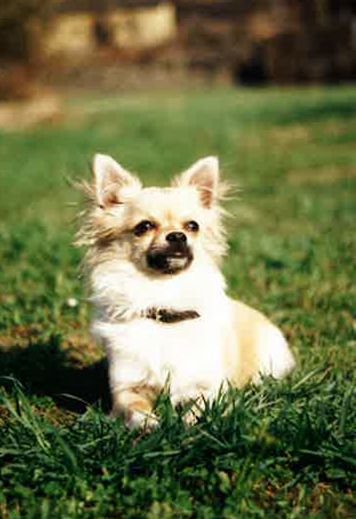 A small Chihuahua named Bud came after boxer Dor. At this time, we were living in a block of flats, our children were small and we had little money (as it happens), and four pound dog readily satisfied my desire to have a dog companion. Buddy was a dog with all the trimmings regardless of his miniature size. As all dogs who have come into our hearts and home, Buddy was also an even-tempered, self-confident dog with a sunny character. I have never trained him thoroughly and yet Bud was the most perfectly mannered small dog for miles around. Unfortunately, he was with us for only seven years.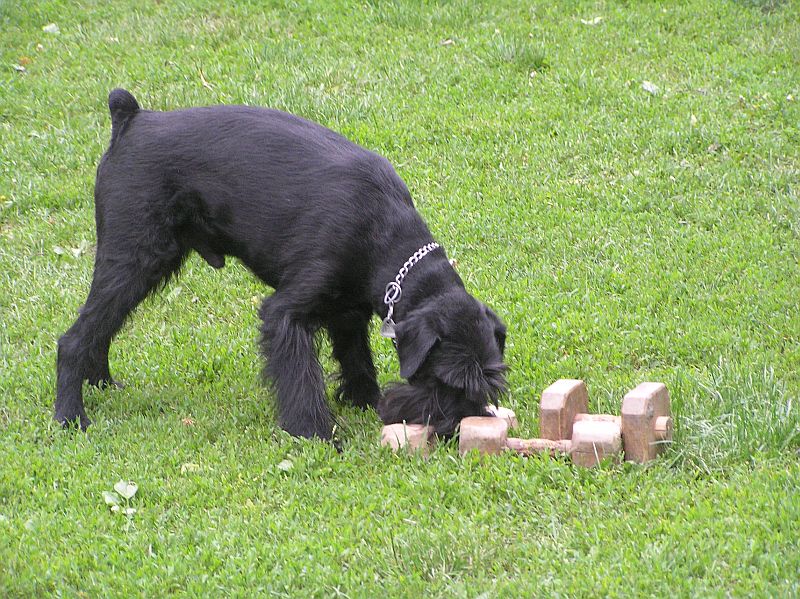 Because I was not able to endure the sadness after Bud´s death, I managed to scrounge a new puppy from my husband. From my cynological beginnings, a giant schnauzer had stuck in my heart and so this breed was the first choice. But after a change of flat, review of working mother time schedule, and a repeatedly vacuumed bank account, I accepted a "soft" variation of schnauzer. So Sam came; a standard black schnauzer. He was beloved and also damned many times because of his constant running after "women" and propositionng them. And because of peeing everywhere and undermining my authority. But living with him was my cynological university, he taught me to be patient and consistent and able to find innovative solutions. We enjoyed twelve beautiful and unforgettable years together …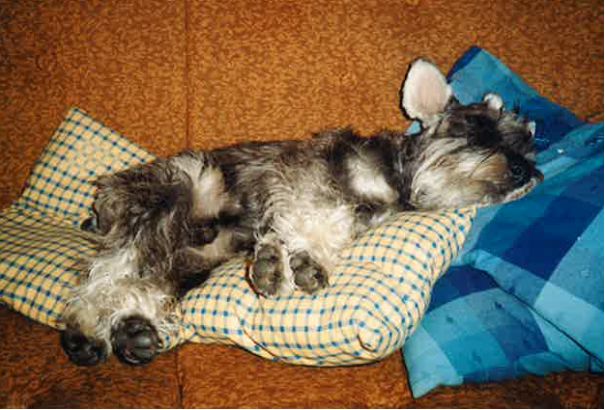 Moreover, we bought a miniature pepper and salt schnauzer named Fík because of Sam. I hoped naively that our own dog buddy would be better than any foreign street scruff. Fík was Sam´s excellent partner, they ran after bitches together. Fík was a cuddly, incredibly sensitive dog who would have been an ideal therapy dog. He was very successful in tracking and for recreation, and we also train him in agility. Fík and Sam have never quarreled and when a giant schnauzer puppy came into our home, Fík helped me to train her.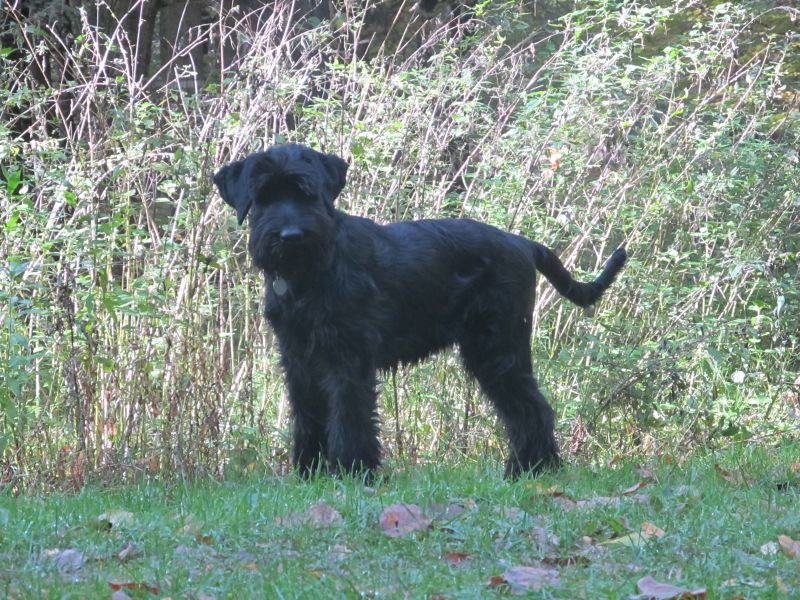 Dorinka is our last dog addition. Initially, I did not want to extend our pack of dogs because two retirees were more than enough. But it was impossible to withstand the breeder´s concerted pressure ("I would be so proud if you had my puppy") and my husband´s generous offer ("So bring the puppy home.")! Dora perfectly completed our schnauzer collection – we were like a walking advertisement for the breed!
Dora has fulfilled all my expectations. She is my giant love. She is fulfilling the dream. She is nice, a model example, and wild and cuddly. She is our wonderful little girl and, may be, she will also be the foundress of our breeding line.
And why is the kennel name Arx Fortunae (Fortuna´s Castle)? I have been inspired by Czech baroque philosopher and pedagogue Jan Ámos Komenský (Comenius). In the book titled Labyrinth of the World and Paradise of the Heart, Comenius drew an allegorical picture of human life as a city upon which there is the Fortuna´s Castle symbolizing the highest things people try to achieve in their lives (in Comenius´s opinion; wealth, fame and power). My Fortuna´s Castle is my home full of dogs barking...